Discover more from Asking For Directions
A series of interviews with people who drive public discussion of hockey analytics and strategy
Ryan Stimson: 'Figure Some Shit Out' and Damn the Consequences
Find out why the RIT analytics conference co-founder and author of "Tape to Space" became a hockey fan in the late 1990s.
If Ryan Stimson's father had received invitations to New York Yankees games or the U.S. Open from his boss in the late 1990s, there's little chance the Rochester Institute of Technology hosts a hockey analytics conference in 2015 or the book "Tape to Space: Redefining Modern Hockey Tactics" comes out in 2018.
Fortunately for the hockey community, Stimson's father went to New Jersey Devils games with his manager, a season ticket holder. A shared, serious interest in the Devils developed between Stimson and his dad, who wanted to restore their bond after Stimson's parents divorced a couple years earlier.
"I kind of had a rough relationship with my father for a little while," Stimson said. "One of the ways we started talking and enjoying each other's time again was through hockey."
What began as mild interest in the sport -- Stimson didn't play and barely followed the Buffalo Sabres while living with his mom in nearby Rochester, N.Y. -- became an intense passion. Stimson refused to settle on assumptions if he believed better ways to incorporate data and answer questions existed. He co-founded the RIT analytics conference, and he wrote a book on tactical concepts, "Tape to Space."
Throughout his evolution from casual fan to analytics advocate and coaching consultant, Stimson remained honest about what he didn't know or couldn't do with data, and he rarely shied away from publicly sharing his thoughts once he'd done his research. 
"I wondered why some of that stuff in soccer wasn't here (in hockey), and that's what led me to jump into it," Stimson said. "If it's not here and nobody's done it, then I'm going to do it, and we're going to figure some shit out.
"Inquisitive minds who want answers and are patient enough to learn about the subjects they want to study will learn the necessary tools to attack it. It wasn't a difficult transition for me, as far as being able to do it. It just required some patience because I obviously wasn't classically trained, from a statistics perspective. ... Even when I was studying history and literature, it's still an evidence-based approach. This is why this happened, and you're looking for evidence to support that. You're looking for motives and what led to decision-making."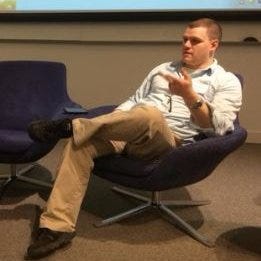 "They decide they're going to act, damn the consequences"
Years before he tried to figure out forechecking systems and powerplay formations, Stimson wanted to understand the mindset of historical figures such as Nat Turner, who led a successful slave rebellion in 1831, and John Brown, an abolitionist who believed in freeing slaves through aggressive, often violent means.
"People like that at the center of these events who see things happening around them and decide they're going to act, damn the consequences -- I think those are some of the most fascinating people in history," Stimson said.
At SUNY-Brockport, Stimson studied English literature, especially from the American antebellum period, during undegrad and in grad school. He thought about becoming a history professor and researching periods of civil unrest. His thesis drew connections between Abraham Lincoln and the Trascendentalists, namely Ralph Waldo Emerson.
Hockey offered a diversion from history, but Stimson still looked for little acts of rebellion. 
Surrounded by Sabres fans at school and usually unable to watch the Devils on television, Stimson relied on his car radio or the internet for New Jersey game broadcasts  -- he also rooted for the Green Bay Packers in a sea of Buffalo Bills fans. 
He knew about sports analytics through his soccer fandom but wasn't aware of advanced hockey metrics until he came across a blog about the Los Angeles Kings' success with zone exits against the Devils in the 2012 Stanley Cup Final. The blog piqued analytical tendencies Stimson knew he possessed, and it represented unconventional ways of discussing on-ice performance. It also nudged him toward unfamiliar quantitative methods.
"I was like, 'What the hell is this wizardry? I need to find out more,'" Stimson said. "Maybe I just took the long road to incorporating numbers into my career and hockey work."
"He's giving you all of the tools and the facts of why we're doing this"
Stimson knew he needed to take 19 steps between each hurdle in the 400-meter version of the race, which he ran in high school. For the 110-meter hurdles, three steps was the secret.
Digging into details and staying up to date on tactics and techniques made perfect sense to Stimson, and in his West Irondequiot High School track and assistant football coach, Dan Fichter, he found a kindred spirit.
"A lot of coaches turned me off because I think yelling at people without having a conversation to establish what you're trying to do, that's a lot of empty noise and performative rather than actual progress," said Stimson, who also wrestled for one year in high school and played rec league basketball. "(Fichter) was the one who would clearly explain why we're doing things. He would say 'We're going to do this for this amount of time, because there are studies that say your body can perform at X percent after that, and we're not going to waste energy and run the risk of injury.
"He was just an overall very smart and genuine person, and he had a lot of success through respect. ... He got fired up and would shout and yell, but where he came from was a place of him caring so much. He wants you to succeed. He's giving you all of the tools and the facts of why we're doing this and why it's going to make us successful.
"I thought if I ever did work in sports, that's how I'd want to approach it."
"Your book is fucking awesome"
The hockey analytics to-do list Stimson started for himself took years to complete, mostly because he kept adding items.
He joined a learn-to-skate program and started reading up on regression models.
In addition to co-founding the analytics conference at RIT, Stimson and Matt Hoffman struck up a consultative arrangement with the coaching staff of RIT's Division I men's hockey program.
"It was almost like a coaching boot camp in a lot of ways," Stimson said, "because you'd hear a lot of the decision-making that goes on behind the scenes, and also you hear a lot of the context and more people-oriented side of things." 
Stimson later became a USA Hockey-certified coaching and worked behind the bench of a local U14 travel team.
Guidance from RIT head coach Wayne Wilson led Stimson to The Coaches Site, a hub of hockey instruction and education. Stimson, who had already contributed a couple dozen articles to Hockey-Graphs.com, decided to create resources that blended data into coaching concepts seamlessly enough to have broad appeal.
With enough immersion into research and coaching, Stimson eventually consolidated his thoughts into a book, which took about four months to reach its final form. He drew insights from myriad analysis projects, including many of his own, as well as the journals he kept while coaching the travel team. The book took about four months to complete.
Then Stimson put it out into the world and waited for a reaction.
He found a hockey community eager to read the book and follow up with questions. College and Junior coaches, individual skills coaches, coaches in Europe -- the book resonated in many corners.
The Coaches Site asked Stimson to speak at a conference in Toronto in 2019. Stimson happily accepted the offer and sold out of the books that he brought to the event. But the story from that experience that stands out to Stimson involved a run-in with an NHL coach during a trip to the bathroom.
"I happened to look up and saw he was headed to the urinal next to me, and he said, 'Your book is fucking awesome,'" Stimson said. "And that was it. So I was like all right, I guess I've arrived.
"It's so true though that if you hear from one person about your work, that means probably 25 other people are reading your work and just not reaching out to you or not telling you.
"I was always confident in what I had done because I was using numbers and evidence to back it up, but in that moment, that's when I really felt like there could be an opportunity down the road for me to provide significant value to a professional hockey organization."
Stimson did not springboard into a team's front office, though. With two daughters, ages 6 and 2, and a 9-to-5 career, Stimson has eased away from hockey analytics in the past year-plus. 
The pandemic stopped him from hosting and attending conferences. 
The social and political climate leaves him wondering how close the United States is to completely unraveling.
And the NHL's on-ice product frustrates Stimson because so many organizations still cling to outdated ideas and repeat mistakes.
Stimson dabbled in coaching his older daughter's soccer team but quickly realized that wasn't the type of diversion that would satisfy his approach to sports. He wants to find an opportunity where, armed with research, he can dare a hockey team to be different when the stakes are high.
"I hope teams one day have the courage to run their power play from behind the net -- that's all I want to see," Stimson said. "Every year, power plays cap out at the same 25 percent efficiency or whatever it is, and there's a lot of meat left on that bone. Teams are just afraid to do it. So it's your move, NHL. You can have a better power play if you hire me. Or just listen to me. Just bring me in for a weekend and pay me."