Discover more from Asking For Directions
A series of interviews with people who drive public discussion of hockey analytics and strategy
Which School of Thought Will Katerina Wu Choose?
Learn about the 2020 UNC grad's aspirations after working with War On Ice founders and presenting research at CBJHAC.
Asked to rank various sports based on which she preferred to analyze with her final project at Carnegie Mellon University's eight-week summer sports analytics camp in 2019, Katerina Wu wrote her top choice, hockey, in 72-point font.
The rest of the list appeared in a size almost too small to read.
"I hadn't done a hockey project at all there," Wu said, "and I was kind of like, 'Please, can I get a hockey project?!'"
Wu got her wish. Then came the tough part. With guidance from her advisor, Sam Ventura, the Pittsburgh Penguins' Director of Hockey Research, Wu and her partner, Madeline Gall, started to develop a method for comparing and projecting player performance across pro and amateur leagues that integrated more variables and nuance than most existing public models.
"It just seemed like such a big goal to be able to achieve," Wu said. "Sam said this is what they're doing in the NHL. That's just his job. So I was thinking if he's doing that, what are we doing? So my partner, Madeline, and I, we were both thinking, 'Are we sure we're doing this right? What could we possibly provide that they haven't already done?'"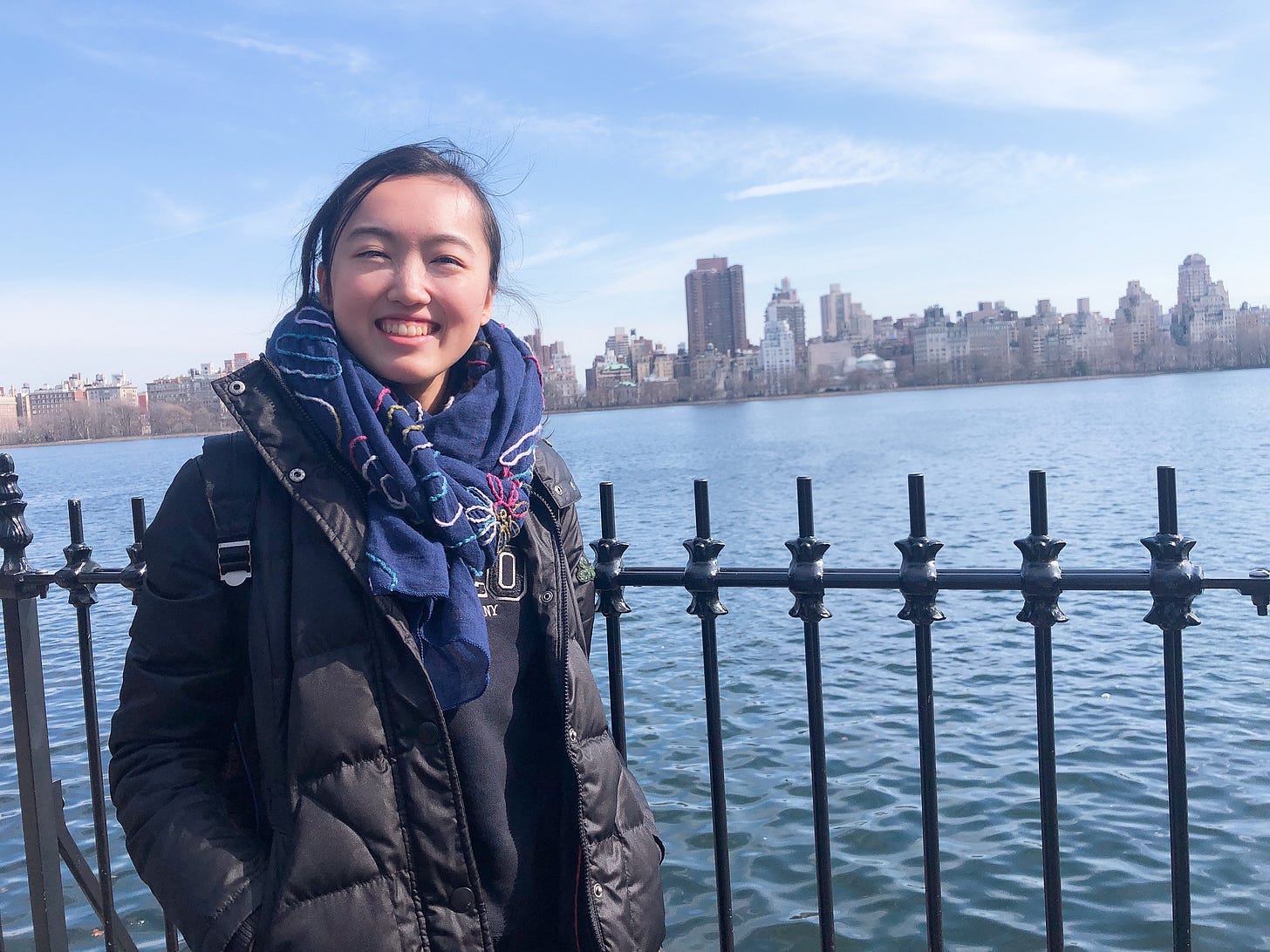 Devising something innovative in sports research is a dream for Wu, who hopes a career in hockey awaits her after graduating earlier this year from the University of North Carolina, where she majored in economics and minored in statistics and computer science. And she's potentially closer to that goal than most 2020 grads. 
Wu impressed at Carnegie Mellon's 2019 summer camp, where she and her partner ultimately created a model that met Ventura's high standards.
She was a co-winner in the research poster competition at the Carnegie Mellon Sports Analytics Conference last November. 
She presented at the Columbus Blue Jackets Hockey Analytics Conference in February. 
She wrote her senior honors thesis on economic dynamics in NHL contracts.
She joined Meta Hockey, a research repository, as a site editor in March.
And she interned this summer with SportsMEDIA Technology (SMT), the company providing the NHL not-yet-public puck and player tracking data.
Yet Wu wonders what it'll take for her to make her mark at the intersection of sports and data science. Can her passion for philosophy set her apart? What about her appreciation for history and culture shifts?
"I find joy in being able to analyze things and then maybe trying to come up with new questions or another point of view that might not have been brought up before, so I think that's the approach I take towards hockey too," Wu said.
"I'd definitely start out trying to replicate some of the past things people have done. But if I really want to establish myself, I can't continue doing that for the rest of my career. I'd love to maybe create a defenseman statistic that they name after me. That'd be cool. But for now, I'm trying to learn as much as I can."
"I wonder if other people are thinking about this"
Until Wu needed statistics and probability to win an argument about her beloved Chicago Blackhawks' playoff chances in 2018, she tried to avoid the subject outside of the classroom.
Neither stats nor computer science provided the level of enjoyment Wu found in economics. They offered abstractions, and Wu wanted something relatable.
Enter Monte Carlo simulations and playoff projections.
Wu learned she could run simulations in Excel to estimate the struggling Blackhawks' chances of a postseason berth -- the team's chances weren't great, but they proved she shouldn't abandon all hope.
"It was very rudimentary, and I'm kind of embarrassed to show anyone the spreadsheet that I used, because it was not statistically sound in any way," Wu said. "But at that point, I was like, this is really cool, I wonder if other people are thinking about this, which is such a college thing to say. You do one thing and you think you're the only person that's ever thought about this."
Well before Wu started to ponder the world's randomness through the lens of statistics, she spent considerable time reading up on how different schools of philosophical thought viewed the significance of life's events. 
Attending grade school in China and America gave Wu perspective on how educational approaches and priorities differ from country to country. Then Wu spent her freshman year at the College of William & Mary because she planned to participate in the school's two-year international exchange program with the University of St. Andrews in Scotland, where she hoped to discover yet another culture's academic vantage point.
Though she transferred to UNC, Wu continued to consume literature and films that fed her curiosity about Absurdism, Existentialism, Biopolitics and various other philosophical perspectives.
"Every single school of thought is useful because you can contrast them against others, and I think the connections between these various schools is where interesting things arise," Wu said.
"I was starstruck by just meeting some of those people"
With Ventura as her mentor and former Minnesota Wild lead hockey researcher Andrew Thomas as her boss at SMT, Wu clearly admires the school of analytics cultivated by the War On Ice founders. But she's still exploring where she fits in the hockey analytics community.
Her Twitter account barely hints of her capabilities as an analyst -- her bio mentions her editor role at Meta Hockey, and she tweeted a few times about her league equivalency presentation.
She's not part of the crowd that gets into online conversations with hockey media members.
When she attended the Carnegie Mellon and Columbus conferences, Wu enjoyed engaging with other sharp hockey minds, but she hardly thought of the events as networking opportunities.
"I wouldn't say I feel like a regular at them yet, especially because I was starstruck by just meeting some of those people," Wu said. "I do think they do some really amazing work, and I don't think I'm at their level yet.
"I have a very small hockey analytics bubble at the moment because I only know a few people, but they've all been very welcoming.
"I said hi very, very briefly to (Seattle Kraken senior quantitative analyst) Namita Nandakumar, and she was extremely funny and extremely nice. I loved her presentation at the RStudio conference. I guess I'd base some of the way I talk about hockey analytics off the research she's done and the talks she's given, because she has a really good way of helping people who don't even like hockey to understand hockey, which is a very good skill to have."
"Self-actualization is what I need"
As the pandemic caused leagues and teams to tighten budgets and introduced more pressing concerns than player tracking research, Wu worked her SMT internship from her family's home in North Carolina and tried not to revisit her decision to pass on a real estate analyst job offer. 
"The plans didn't work out entirely the way I wanted, but I don't regret going that way at all," Wu said.
Conversations with her parents about career plans still sting from time to time. Wu understands their focus on industries with longstanding and robust commitments to quantitative work. She also remains fascinated by topics that have nothing to do with sports -- art, piano playing and learning the guitar during the pandemic have kept her busy outside of her philosophical pursuits.
But there's something about hockey, with its combination of finesse and physicality, and the satisfaction derived from sound analysis in a still-growing field that Wu can't shake.
"The summer of 2019 really changed where I was going with my career," Wu said. "Just doing econ, I say I could've applied it to anything, but if I was being realistic, the only jobs I was going to get would be like consulting at Deloitte or whatever other 'big five' company for consulting. The more I thought about it, the more it didn't appeal to me.
"I enjoy doing analysis as my actual job, because sometimes it's nice just to have concrete answers to things. Like, yes, this is what I wanted to do, I've achieved it, on to the next thing. … It's not exactly that I feel I have a definite answer to something, but I'm closer to where I want to get. For my league equivalency, the main point of that was to ask the question, 'Which league is best?' And very obviously, the answer is the NHL, number one. But obviously among the rest of the leagues, it's not clear cut. It changes over time, so I can't say for certain. But I do think I have a clearer idea of ways I can evaluate that.
"My main reason for doubting myself at this point is just that I don't have a job I can apply my experience to. I can't say 'Oh, I've gotten to where I want to be,' because I haven't. So self-actualization is what I need."