Discover more from Asking For Directions
A series of interviews with people who drive public discussion of hockey analytics and strategy
More than Meets the Eye Test
Learn about the people who put their hockey analytics & strategy ideas out there for the world to ponder.
"If it's a gift, the gift is not being afraid to seem a little ignorant." - Michael Lewis on his story development process, Forbes interview, July 2019
I still vaguely recall the lectures where my journalism professors insisted no story should start with a quote. It's a lazy move, I admit.
Opening with that remark from that writer captures the spirit of this project well, though.
No one is better than Lewis at turning complicated or tedious topics into fascinating stories about people and the lengths they go to solve problems or develop theories. For him to suggest his storytelling process is mostly a mixture of curiosity and humility gives hope to rest of us, even if it's an overly simple explanation.
Asking For Directions is a forum where I hope to celebrate the analytical and strategic minds publicly pushing hockey forward and, maybe more importantly, to shed light on the personalities and backgrounds of the people with these bright ideas. My role is to ask questions and be unafraid to seem a little ignorant — I'm obviously no Michael Lewis, but I believe in the power of his process.
Why bother?
For those who don't know (or forgot) me, I'll explain my background: I spent the final 18 months of a decade-long newspaper journalism career covering the Pittsburgh Penguins during their 2015-16 and 2016-17 seasons.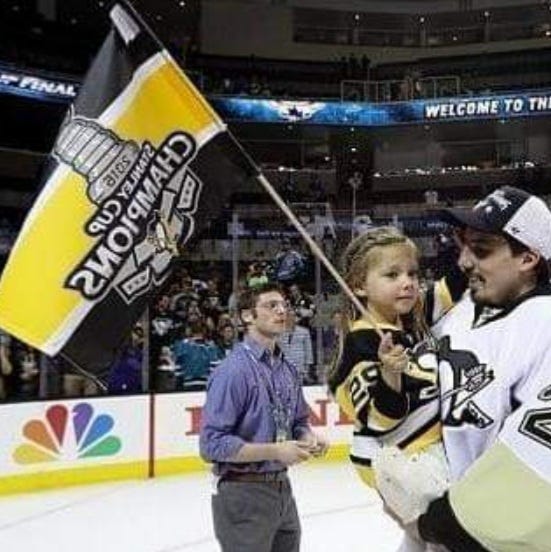 A few days after the Pens repeated as Stanley Cup champions in June of 2017, I left journalism and took a job that allowed me to spend more time with my family.
I don't miss listening to players' and coaches' reactions to the news of the day. I do miss asking about processes, the hows and whys behind decisions made in hockey. And great insights came from people with all types of job titles and experiences — passion for the topic was the commonality.
Recently, with playoff hockey on TV at all hours, I've started watching NHL games and caring about how writers cover the stories again.
A first-round matchup provided background noise as I read an essay from George Orwell a few days ago, and for whatever reason, the argument within Orwell's "What Is Science?" made me pause to think about media coverage of hockey and what types of people provide the most valuable perspectives.
"Scientific education ought to mean the implanting of a rational, skeptical, experimental habit of mind," Orwell wrote in 1945. "The idea that science means a way of looking at the world, and not simply a body of knowledge, is in practice strongly resisted.
"If science is simply a method or an attitude, so that anyone whose thought processes are sufficiently rational can in some sense be described as a scientist, what then becomes of the enormous prestige now enjoyed by the chemist, the physicist, etc. and his claim to be somehow wiser than the rest of us?"
Please understand: I'm not suggesting we should distrust or belittle anyone using science and math to make better sense of sports. Quite the opposite. My point is coaches, general managers and former players get the prestige within hockey and are regularly tapped for their perspectives, even during times when their wisdom is no better than what amateur analysts post online or present at conferences.
Caricatures and conversations
It's unfortunately still easy to find hockey fans, as well as a few media members, who suggest advocates of analytics are spreadsheet worshippers, clueless contrarians or joyless anti-jocks. Analysts' emotions and personalities are dismissed, even though these individuals are often passionate hobbyists and long-time fans.
Those who love the sport even as they scrutinize games and rosters scientifically strike me as admirable and fascinating. That's why I aim to share their stories here.
I'm not planning to conduct long interviews with NHL executives or reveal team and industry secrets. If I luck my way into a scoop or a chat with someone in a front office role, that's great. But I'm far from an 'insider.' My goal is to give people with intriguing ideas about hockey a place to open up about the periods that come before and after their aha moments.
To find that place, we'll need to ask for directions.